Pinfinder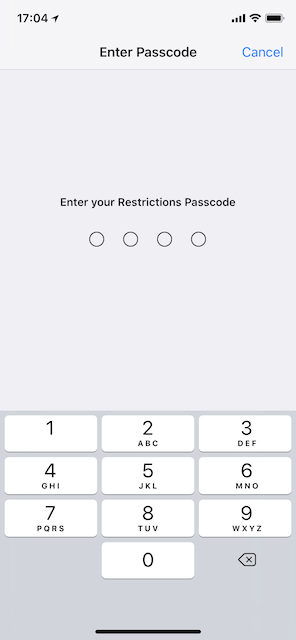 About
Pinfinder is a small, free program which can use an iTunes backup of an iPhone, iPad or iPod touch to figure out the restrictions or screen time passcode that was previously set on the device.
The program is free to use, does not transmit your data anywhere and runs on Windows, Mac and Linux systems. The source code can be found on Github if you'd like to inspect it.
It supports devices running iOS 7 or later, all the way through to iOS 12.4 - iOS 13 and 13.1 are not supported - See the FAQ for more details.
Instructions
Pinfinder is very simple to use and does only one job. Click on your computer system below for instructions:
What's a restrictions passcode
A restrictions passcode (also known as a screen time passcode from iOS 12 onwards) is an optional 4 digit number that can be set on iOS devices to restrict what applications and operations a person using the device can do who doesn't know that code.
It's often used by parents to prevent children from accessing certain apps, or make in-app purchases. As it's then rarely used, it's easy for a parent to forget, which is where Pinfinder comes in!
NOTE: Pinfinder cannot help recover your unlock PIN which is used to get into your device; it will only recover the restrictions passcode
More Info
Some time ago, I forgot the restrictions passcode to a kid's iPod touch. Apple's advice is to completely wipe the device and start again, which didn't sound great so, I wrote this tool to figure out the passcode from an iTunes backup.
As a proponent of Free Software, I wrote it and have published the code for it, so you can check it for yourself, download it and use it without charge to recover the restrictions passcode from your own iOS devices (iPhones, iPod Touch, iPads).
As the software is free (and commercial alternatives are expensive!) - If it works for you, I'd appreciate it if you'd donate a few dollars to offset the costs of writing and maintaining it!
Links
The original inspiration for this utility came from this blog post, which now suggests using Pinfinder as the easy solution!
Need instructions in another language? Some other blog posts mentioning pinfinder: